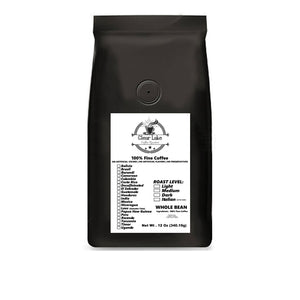 African Espresso - Fair Trade Organic
Sale price Price $9.99 Regular price
Tax included.
Shipping
calculated at checkout.
Photo Credit: Matt Phalen  
Fair Trade Organic (FTO) Coffee
Tangerine, lemon, lime, nice sweetness, long & smooth finish.
This is a AAA/AA grade, Rainforest Alliance certified, Yellow Honey Process micro-lot from Kateshi Estate in the northern highlands of Zambia and Tanzania.
The Northern province of Zambia shares its borders with Tanzania to the East and D.R. Congo to the North. It also occupies the southern shore of Lake Tanganyika - the world's longest fresh-water lake, and the largest in Africa by volume. The Northern Province has the best conditions for arabica coffee cultivation in Zambia with its relative proximity to the equator and abundant altitude (Mafinga Hills being the highest point in the country at 2,300masl). The local economy is dominated by agriculture with coffee being a primary cash crop alongside subsistence crops such as maize, millet, groundnuts, and beans. The mountainous terrain and lack of transport infrastructure make this region challenging to work in, but also one most in need of the investment and development which the coffee industry can bring.

Ancient volcanic soils and honey processing help produce the complex flavor profile of this coffee. It is an exploration worthy of the country that is home to the smoke that thunders. Long before Dr. Livingston arrived to name Victoria Falls after the queen, the people who had lived around this wonder of the natural world for generations had already named it more appropriately, "the smoke that thunders." The falls thunder into the Zambesi River, which flows east toward Mozambique. But before the river crosses the border, take a left and head north up the Luangwa River. You'll move through land rich in biodiversity, including the world's largest concentration of hippos. As the river meanders and the altitude rises you will reach Mafinga plateau and Zambia's largest coffee-growing region which stretches all the way to the border with Tanzania.
Roast: Medium/Dark
Great blend of coffee from Kenya, Tanzania Ethiopia and Zambia