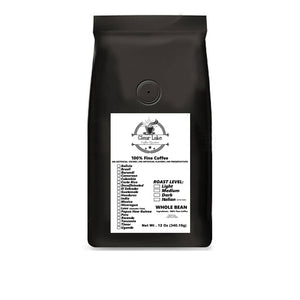 Cold Brew Coffee
Sale price Price $9.99 Regular price
Tax included.
Shipping
calculated at checkout.
Photo Credit: Matt Phalen 
Are you looking for a coffee that's bold, creamy, and perfect over ice, we've got the brew for you! Cold Brew Coffee, by Clear Lake Coffee Roasters, is a darker-roasted variant of our espresso blend: created for a buttery rich body and full, toasty flavors of cocoa and vanilla bean. A touch of cedar smokiness balances with a crisp hint of fruit in the finish. We love the smooth, velvety texture, and the boldness that emerges over a handful of ice. Throw it in a to-go cup and you'll be ready for anything— whether your commute takes you across the lake or just across the house.
Reserve a bag of Cold Brew Coffee blend, and beat the heat with the perfectly smooth, dark, cold brew coffee. It's air-conditioning in a cup. Now that's chill.
Perfect Cold Brew Coffee, every time. This unique blend makes the perfect, most satisfying cup. Specifically blended for cold brew coffee. Contains no additives, nothing artificial, just 100% coffee. Cold brew coffee is a dark French roast and the grounds are very coarse.
Available while supplies last, freshly ground in bags 12oz-5lb. Three bag limit per customer.