Clear Lake Coffee Roasters: At Home Series - How to Make an Americano - May 27, 2021
How to Make an Americano
An Americano, simply put, is espresso poured over hot water (or hot water poured over espresso if you prefer). Want to try making an Americano at home? Here's how you can easily do it.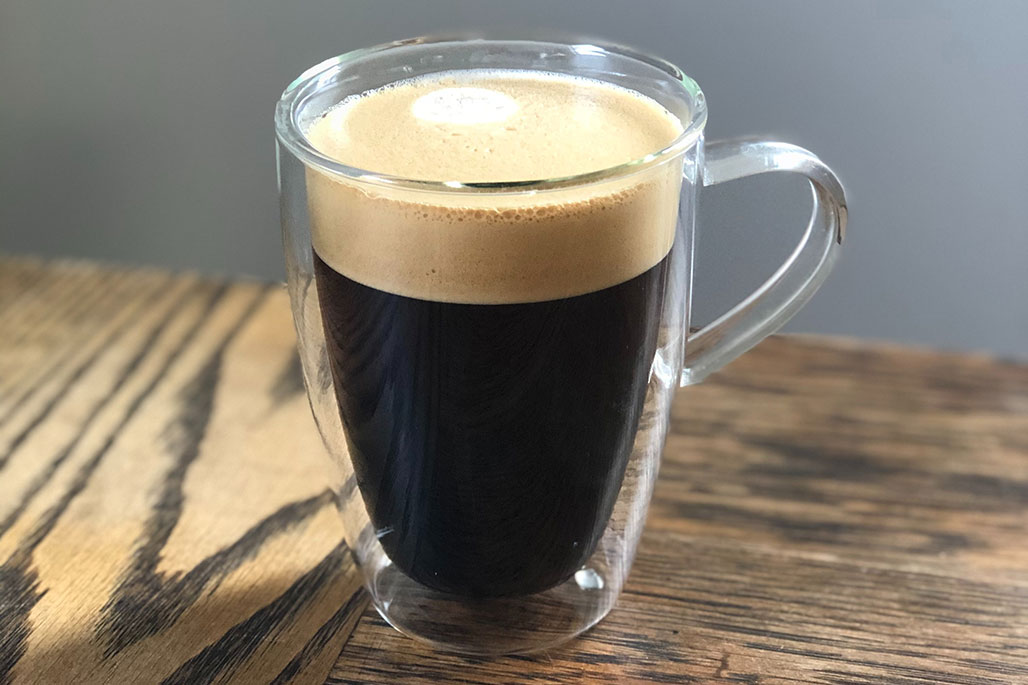 How to Make an Americano 
Americano Recipe
Simply add a double shot of espresso (the standard for most specialty coffee drinks) to a tall coffee cup; then pour your hot water over top.
If you'd like to keep the crema—the caramel-covered froth—on top of your Americano, it's best to add your water to the coffee cup first, gently pouring your espresso over top.
Never made espresso before? Check out our guide to making espresso at home. 
Tips for Making an Americano
Use freshly filtered water, heated in a kettle or pot.

Use a 1:4 ratio: 2 ounces of espresso and 8 ounces of water.
Americano Variations 
Long Black Americano: 1:2 ratio 
Little Buddy or Italiano Americano: 1:1 ratio 
Iced Americano: 1:4 ratio. Using filtered water and good ice (frozen filtered water) is key to a great tasting, iced Americano.
To make an iced Americano, fill a glass with ice and pour cold water over the ice until the glass is about half full. Next and finally, pour your espresso over top. The espresso will float a bit, so snap a photo for Instagram (if that's your thing) and enjoy!
Whilst you're here are 6 reasons for making Clear Lake Coffee Roasters - CLCR - your go-to coffee roaster:


☕️ We are a local family-run business located in the heart of Clear Lake, Iowa.

☕️ We go to great lengths to find only the finest and ethically sourced coffee around, from the top 2% of coffee beans in the world.

☕️ We only source 100% certified Arabica coffee beans, carefully hand-selecting each coffee based on specific quality and taste attributes.

☕️ Our roasting process has been refined over the years and each roast profile is individually designed to complement the nuances of the coffee we source, from Cup of Excellence (COE) award-winning producers.

☕️ By roasting in smaller batches, we can ensure our coffee is ALWAYS fresh, in fact, we roast your coffee only after you place an order - the same day your order ships out.

☕️ At CLCR, we are dedicated to a single mission: the unyielding pursuit of coffee perfection in every cup.

We would give you more reasons, but rather than reading it's better if you visit our website, purchase a bag or two, and experience a unique caffeinated or half-caff journey for yourself 😊!
Explore goodness. Click. Buy. Smile.
Clear Lake City Park Beach - Named one of USA Today's top 50 Beaches in the United States.