Clear Lake Coffee Roasters: How to Series - The Best Streusel Coffee Cake Recipe- June 20th 2021
The Best Streusel Coffee Cake Recipe
Looking for an easy coffee cake recipe? This recipe with a lightly crispy streusel topping is our go-to for coffee cake. Bonus: Most of the ingredients you need are probably already in your pantry! 
 This streusel coffee cake is the perfect afternoon pick-me-up or treat to serve your house guests, don't forget to pour a cup or two of Clear Lake Coffee Roasters coffee to serve alongside.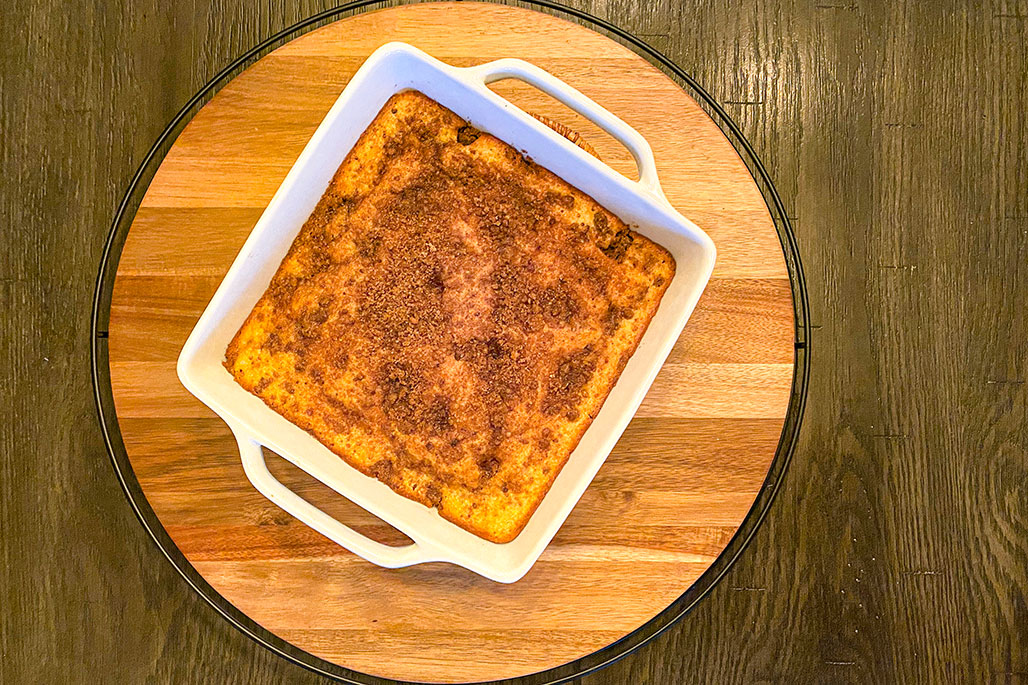 The Best Streusel Coffee Cake Recipe
Prep Time: 10 minutes 
Cook Time: 25 minutes 
Total Time: 35 minutes 
Ingredients
Streusel Coffee Cake: 
3/4 cup sugar
1/4 cup shortening
1 egg
3/4 cup milk
1 1/2 cup flour
2 teaspoons baking powder
1/4 teaspoon salt
Streusel Coffee Cake Topping:
1/2 cup brown sugar
2 tablespoons flour
2 teaspoons cinnamon
2 tablespoons margarine
Directions
Step 1: Heat oven to 375 degrees.
Step 2: Spray 9x9-inch baking pan with non-stick cooking spray.
Step 3: Mix sugar, shortening and egg.
Step 4: Stir in milk.
Step 5: Stir in flour, baking powder, and salt. 
Step 6: Make topping by melting butter in small bowl; then add the flour, cinnamon, and brown sugar. Mix together with fork.
Step 7: Spread half of the batter in greased pan. Sprinkle half of the topping. Repeat both steps.
Step 8: Bake for 25 to 35 minutes.
Step 9: Let cool for a few minutes and enjoy!
Whilst you're here are 6 reasons for making Clear Lake Coffee Roasters - CLCR - your go-to coffee roaster:


☕️ We are a local family-run business located in the heart of Clear Lake, Iowa.

☕️ We go to great lengths to find only the finest and ethically sourced coffee around, from the top 2% of coffee beans in the world.

☕️ We only source 100% certified Arabica coffee beans, carefully hand-selecting each coffee based on specific quality and taste attributes.

☕️ Our roasting process has been refined over the years and each roast profile is individually designed to complement the nuances of the coffee we source, from Cup of Excellence (COE) award-winning producers.

☕️ By roasting in smaller batches, we can ensure our coffee is ALWAYS fresh, in fact, we roast your coffee only after you place an order - the same day your order ships out.

☕️ At CLCR, we are dedicated to a single mission: the unyielding pursuit of coffee perfection in every cup.

We would give you more reasons, but rather than reading it's better if you visit our website, purchase a bag or two, and experience a unique caffeinated or half-caff journey for yourself 😊!
Explore goodness. Click. Buy. Smile.
Clear Lake City Park Beach - Named one of USA Today's top 50 Beaches in the United States.