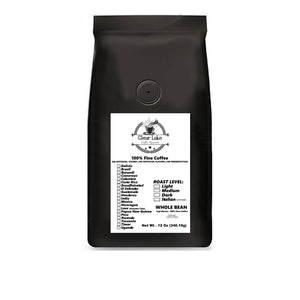 Tanzania - Fair Trade Organic
Sale price Price $9.99 Regular price
Tax included.
Shipping
calculated at checkout.
 Fair Trade Organic (FTO) Coffee
This is Fair Trade and Organic certified Robusta coffee from Karagwe District in the Bukoba highlands. Bukoba is in the northwest of Tanzania next to Lake Victoria and the borders of Uganda and Rwanda. 
This coffee is grown by smallholder farmers at altitudes of 1,200 - 1,900 meters, with each farmer having an average of 2.3 acres of cultivated land. Most farmers intercrop with maize, beans, and fruit trees, providing good biodiversity, soil health, and shade canopy for coffee trees. Secondary processing is handled centrally by Kaderes. 
Kaderes was founded in 2007, however, dates back to 1997, when it was operating as a non-government (NGO) organization, as "Karagwe Development and Relief Services" with a focus to empower the rural communities and improve their living conditions in the districts of Karagwe and Kyerwa.
Now acting as a coffee export, Kaderes works with more than 27,800 farmers (8,598 of which are Fairtrade/organic certified), organized in 8 cooperatives in the Karagwe and Kyerwa districts. As of 2019, it has expanded to Misenyi, Muleba, and Ngara districts. 
Certification/Grading: AB
Roast: Medium-light
Tasting Profile: Pear, floral, jasmine, strawberry, amaretto, molasses, and tobacco
Grower: Small cooperative farmers in the Mbeya area
Variety: Bourbon & Kent
Region: Mbeya & Karagwe District in the Bukoba highlands Region of Tanzania
Altitude: 1200-1900 M
Soil Type: Clay Minerals
Process: Fully washed and dried on raised beds