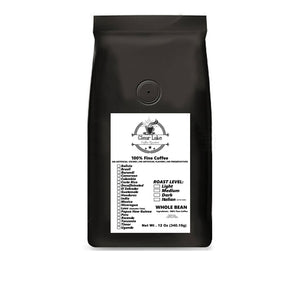 Asian Plateau Blend - Fair Trade Organic
Sale price Price $9.99 Regular price
Tax included.
Shipping
calculated at checkout.
Photo Credit: Matt Phalen  
 Fair Trade Organic (FTO) Coffee
Asian Plateau Blend has Intense and complex fruity notes and is cultivated at Laos Estates located in Bolavens Plateau.
The Bolavens Plateau in South Laos is the most favorable region for coffee cultivation in the country. The region boasts high elevations (up to 1350 masl), rich volcanic soils, and a moderate climate with plentiful sunshine, rainfall, and a low risk of frost. The gentle slopes of the plateau negate many of the farming challenges posed by more mountainous and varies terrain.
The economy of Laos is overwhelmingly dominated by agriculture, accounting for around 25% of GDP and 73% of the labor force. With 22% of the population also living below the poverty line, there is a continuing need for sustainable agricultural supply chains, and specialty coffee represents a key opportunity for these communities. 
 A medium roast containing blended coffees of Southeast Asia, specifically the 'golden triangle,' countries offering herbal flavor notes and a heavy body. This coffee offers consistent flavor, a strong aroma, and is best as a hot coffee drink. Grown under the full sun with washed processing that is environmentally friendly.