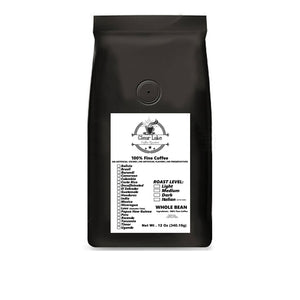 Breakfast Blend
Sale price Price $9.99 Regular price
Tax included.
Shipping
calculated at checkout.
Photo Credit: Matt Phalen  
Breakfast Blend is a decadent, medium blend that feels like walking into an artisan chocolate shop. While brewing, the aroma of melted chocolate fills the air. In the cup, rich dark chocolate flavors abound, with a full, brownie-batter mouthfeel and a hint of dried fruit. The finish is long and honey-smooth, with a touch of peppery spice to balance the richness. The result? Spicy chocolate truffle in your morning mug, and the most effortless mocha you'll ever make.
Breakfast Blend is a charming cup on its own, and a perfect pairing with a splash of cream or a bite of chocolate. Clear Lake Coffee Roasters source our beans directly, with fair trade and organic certifications whenever possible. For this blend, we use all fair-trade beans from South America, a nod towards our commitment to ethical sourcing.
When fine coffee and chocolate come together, it's a match made in heaven. We love Breakfast Blend for its local provenance and fair trade beans, of course, but the rich chocolate flavors and spicy truffle notes are a special, decadent spin on a classic cup. Enjoy this one black (dark chocolate!), with cream (milk chocolate!), or with a bite of your favorite breakfast confection. Reserve a bag of Breakfast Blend for yourself, or someone you love, and "mocha" your morning a little sweeter.

Roast: Medium
House Breakfast Blend.  A smooth blend of fair-trade coffee from South America