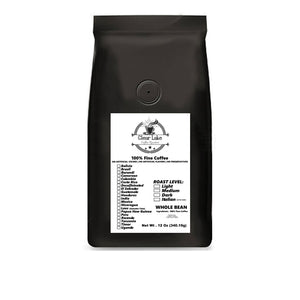 Brazil Santos - Fair Trade Organic
Sale price Price $9.99 Regular price
Tax included.
Shipping
calculated at checkout.
Photo Credit: Matt Phalen  
 Fair Trade Organic (FTO) Coffee
With hints of chocolate chip cookie dough, this Brazilian coffee has become one of our perennial favorites.
We nicknamed the Brazil Santos the "cookie dough coffee" because of its distinct sweet cookie flavor. Perfectly roasted for a comforting hint of allspice and an incredibly smooth cup and silky mouthfeel. A real treat for coffee lovers, and a true gem from the world's largest coffee-producing country. It's rare to see Cup of Excellence-quality, award-winning coffee from Brazil pass through the U.S. and, after trying this one, we asked our supplier to put a little more aside, just for us. Lots of great coffee comes out of the Bom Jardim de Minas region, within the foothills of the Sierra de Mantiqueira mountains, and the greater Parana state but this one takes the top prize, in our book! Treat your morning sweet tooth to one of our favorites.
Certification/Grading: Natural
Roast: Medium
Tasting Profile: Elegant, smooth cup with cocoa notes.
Grower: Fazenda Santa Barbara, Sao Francisco, Santo Antonio
Variety: Catuai and Mundo Novo
Region: Parana and Sao Paulo Brazil
Altitude: 750-1050 M
Soil Type: Volcanic Loam
Process: Pulped natural and dried in the Sun