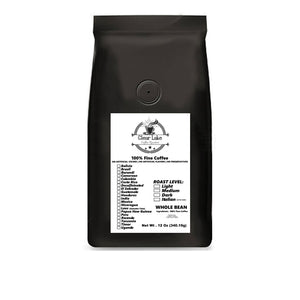 Sweetheart Blend
Sale price Price $9.99 Regular price
Tax included.
Shipping
calculated at checkout.
Back and better than ever: we love this classic, light roast blend that "tastes like coffee". One of our all-time best-sellers, it's a perfect, uncomplicated roast for an easygoing morning by the lake or wherever you take your coffee. 'The Surf Ballroom' Breakfast Blend is an ironic name, considering that you don't need to add anything to this cup-- its smooth, silky notes of rich caramel and melted chocolate are deceptively simple, and roasted to perfection with an expert touch. That said, if you do prefer a splash of cream or a spoonful of sugar, this roast happily accommodates. Everything about your coffee ritual should be this easy.
We're loving the rich caramel taste in this cup. With its light, sweet flavors of chocolate, caramel, and toasted nuts, this light roast is classic, easy, and oh-so-delicious. Reserve your bag today, and discover why Breakfast Blend - Surf is one of our all-time best-sellers. Don't be afraid to fall in love and buy an extra bag or two for friends and family…
Additional tasting and sourcing notes:
A lightly roasted blend of South American coffees that are perfect as an early sunrise roast. Tasting notes include walnuts, mild apple, slight raisin, and toffee. Environmentally friendly washed processing and sun-dried. This coffee is both partial sun and full sun-grown at high mountain elevations.
Available while supplies last.