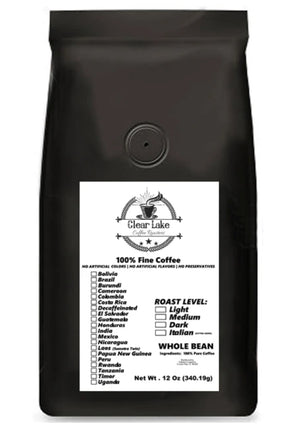 Coffee with a Side of Galapagos Tortoise Ecuador Guillermo Lomas Sidra 16 oz whole bean light coffee
Sale price Price $19.99 Regular price $20.00
Tax included.
Shipping
calculated at checkout.
Photo Credit : Matt Phalen
How often do we see coffee from Ecuador? Not often enough! As soon as I cupped this extraordinary coffee from  Clear Lake Coffee Roasters, I raced over to reserve a batch for our specialty wholesaler. This coffee is Cidra, or Sidra, varietal: a new hybrid primarily found in Ecuador, and making some real waves as a promising new bean. Its flavor profile is sweet, floral, and velvety-smooth. In fact, the first thing you'll notice about this cup is its amazing, buttery texture — it's just like sipping a glass of almond milk. Sugary fruit flavors up front, lychee, apple cider, purple plum, all wrapped up in that almond milk creaminess. Finish eases into a soft profile of spicy florals, with notes of candied rose, pink peppercorn, a touch of sweet herbs. We're so excited to give you a chance to enjoy an elusive Ecuadorian micro-lot, Ecuador Guillermo Lomas.
Thanks to Charles Darwin, the small country of Ecuador is best known for its Galapagos Islands: a tropical Eden of wildlife. It's exotic, but innocently so— no lions or tigers here, only peaceful tortoises enjoying their long, lazy lives. Yes, that photo from Caravela Importers is a Galapagos tortoise under a coffee tree! Amazing. Ecuador isn't a powerhouse of coffee production (Ecuador only exports 100 containers of coffee a year; Colombia exports 32,000) but I always perk up when I see Ecuadorian coffee on the menu. Maybe because of its small coffee industry, and its lack of commercialization, coffee from Ecuador has an untouched purity, a "mountain spring" feeling that echoes in its clean, sweet flavor profile of light fruits, nutty roundness, delicate florals. It's not a lion of a coffee, it's more like a tortoise of a coffee: sweet, gentle, magnetic. This one was grown by producer Guillermo Lomas in Pichincha, a heavily forested highlands region not far from Quito.

J'adore, Ecuador! This is the first Ecuadorian coffee I've seen all year. Last year, Clear Lake Coffee Roasters' small Ecuadorian lot flew by so fast, I barely had a chance to refill my cup. I am so excited to work with Clear Lake Coffee Roasters to reserve a small amount of this year's micro-lot, just for our customers. Available now, for a limited time, and at a really great price! Reserve your bag today, and don't miss your chance to try this creamy, dreamy Sidra coffee, Ecuador Guillermo Lomas.