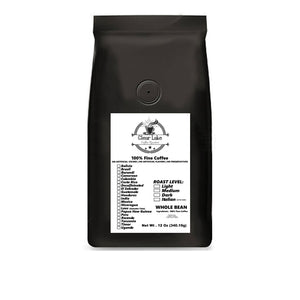 Colombia Gesha - Fair Trade Organic
Sale price Price $9.99 Regular price
Tax included.
Shipping
calculated at checkout.
Photo Credit: Matt Phalen 
Wow! We've rarely seen a small lot fly off the shelves like this one. Clear Lake Coffee Roasters is bringing in a special, super-limited lot of anaerobic fermentation Gesha from one of Colombia's top growers, we jumped at the chance to reserve a small amount for our customers. And we're glad we did—within less than a week, we sold every bean of this amazing coffee reserved at our retail locations, and we feel so lucky to be able to offer you one of the very last bags of Colombia  Gesha - Fair Trade Organic.
Gesha beans are the "cashmere of coffees", luxuriously soft and sweetly complex. The high-grown beans are a little harder, denser, than other beans, and you may hear the difference as your coffee grinder does its work. The aroma is delicate, gently spicy, and round with fruit. At first sip, you'll taste a fruit-punchy burst of yellow-toned tropical notes—papaya, pineapple, banana—along with an agave sweetness that seems to expand as you sip. After hitting their peak, the flavors coast into a warm, spicy finish, like mild pink peppercorn and honeysuckle florals. As the cup cools, there's plenty more for an adventurous palate to discover: I could identify rosy strawberry jam, white grape, key lime, a slightly botanical note of cucumber water, all finishing with that spiced honey finish. After all, it's a Gesha, and their tasting notes go on and on. This one has a unique, tangy sparkle from its anaerobic processing, an added step of fermentation that brings out notes like papaya, spice, and a creamy tartness like you'd find in freshly-made yogurt. We've tasted plenty of Geshas from other farms, but the way this coffee was processed really sets it apart from the rest.

This coffee comes from a farm located 1800-2000 meters above sea level in the coffee-growing mecca of Narino, Colombia. 

With rich, round notes of papaya, pineapple, and banana, a luxuriously creamy mouthfeel, and an unusually spicy finish, this exclusive lot is a unicorn of Colombian coffee. We have less than 200 bags of this stunner, and it's bound to sell out fast— so don't wait! Reserve a bag of Colombia  Gesha - Fair Trade Organic, and wrap yourself, or someone you love, in the "cashmere of coffee": a sweet, tropical vacation for your morning.

Available while supplies last, as 12oz bags and up, whole bean, and freshly ground.
Roasted by

 

Clear Lake Coffee Roasters 
Light

 

roast profile
Origin(s):

 

Colombian
Tastes:

 

Pineapple,

 

Papaya, Peppercorn
Process: Washed
Elevation:

 

2000 masl