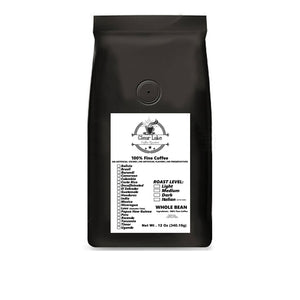 French Roast
Sale price Price $9.99 Regular price
Tax included.
Shipping
calculated at checkout.
Photo Credit: Matt Phalen 
Treat yourself to a playful cup of fudgy chocolate and toffee with this best-selling coffee: Clear Lake Coffee French Roast Blend. This is a big coffee with big flavors, the decadent Heath-bar flavors are a fun reminder of what it felt like to enjoy a chocolate bar as a kid. Pure joy. No wonder one of the tasting notes is 'nostalgia.'

I could go on and on about just how much I love this coffee: its deep, dark chocolate aroma, the toffee sweetness, the hint of nuttiness, the fantastic depth of flavor. You'll love every drop of this coffee: the perfect start to your morning, a decadent after-dinner dessert, or a midday pick-me-up. It's one of our perennial best-sellers: a sweet reminder of how the morning coffee ritual can touch us, even as children, before our very first magical sip.

Reserve a bag of Clear Lake Coffee Roasters French Roast, for your own house, and let this smooth, rich, toffee coffee get your day off to the perfect start. Childhood joy: now brewing.
A deep dark roast of our highest scoring African coffees offering a bold, rich coffee flavor. The beans are shiny with an oil sheen and offer a bittersweet flavor with low acidity.