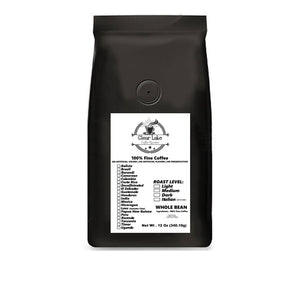 Latin American Blend - Fair Trade Organic
Sale price Price $9.99 Regular price
Tax included.
Shipping
calculated at checkout.
 Fair Trade Organic (FTO) Coffee
One of our bestselling coffee from Clear Lake Coffee Roasters. Dancing on the line between bold and fruity, this medium-dark roast combines beans from Latin America. You'll enjoy a rich aroma, a full-body, and a hint of tropical sweetness as unexpected as a trip down the Amazon River.
A medium-dark roast of select Latin American coffees perfectly blended for full flavor, offering nutty hints with mild fruity tones and a gentle cocoa aftertaste. Shade-grown in the Central American rain forests and in volcanic soil near the Amazon rain forest, these blended coffees make a rich, delicious cup. Environmentally friendly washed processing and full sun-dried for up to 7 days.