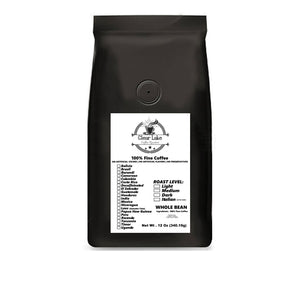 Mexico - Fair Trade Organic
Sale price Price $9.99 Regular price
Tax included.
Shipping
calculated at checkout.
Photo Credit: Matt Phalen  
Fair Trade Organic (FTO) Coffee
Blueberries, Brandy, and Bright green apple! The rich, sweet, blueberry-toned Mexico blend by Clear Lake Coffee Roasters.

Wild blueberry flavors gallop through this cup, with a boldness rarely found in lighter roasts. The body is round, with a creamy, brandy-like sweetness, and the finish dives into a spiced, cacao nib profile. Mexico blend is a specially-curated blend of small producers in Chipias and Oaxaca.

Reserve your bag of the rich, sweet Mexico blend, and enjoy an iconic cup from Clear Lake Coffee Roasters. 
Certification/Grading: EP, Organic
Roast: Medium
Tasting Profile: Chocolate, cinnamon, bright green apple, grape, and lime
Grower: Coffee growers from Chiapas and Oaxaca 
Variety: Typica, Criollo, Bourbon, Mundo Novo, Caturra
Region: Chipias and Oaxaca, Mexico
Altitude: 900-1000 M
Soil Type: Clay Minerals
Process: Fully washed and sun-dried.